Tuba Player Ben Jones joined the Junior Conservatoire when he was 12 years old and went on to take his degree at the Royal Birmingham Conservatoire. Here he is in conversation with Jeff Snowdon about his journey to becoming a young music professional at the start of his career, including his experience at the senior conservatoire, his first professional opportunities and how the pandemic has affected young freelance musicians.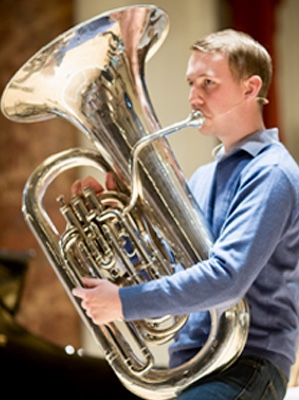 When did you start playing the Tuba?
I had just started secondary school so I was 12 years old when I started to learn the Tuba.
Why did you start playing the Tuba?
It was definitely a case of the Tuba choosing me instead of me choosing the Tuba! I actually began learning the Trumpet when I started secondary school. After a few weeks of lessons, it turned out that I was rubbish at playing the Trumpet. My teacher then exclaimed 'hang on, I have another instrument that I think will be perfect for you.' He then plonked the Tuba in my lap and told me to play some music I was learning on the trumpet. I instantly found it way easier to play and loved the deep, broad sound it made.
When did you start at Birmingham Junior Conservatoire?
Hmmm, I think it was around 2008 so I must have been about 12-13 years old.
Are there any high points you can remember when studying at Birmingham Junior Conservatoire?
While I have many fond memories from all of the concerts I was fortunate to play in, one concert definitely stands out to me. It was my first concert at Birmingham Junior Conservatoire. We played the Young Persons Guide to the Orchestra in Symphony Orchestra with a ballet school dancing to the music. Not only was this my first time providing music for people to dance to, but also the first time I got to perform at the Birmingham Town Hall. What makes this my most memorable time though is that I was asked to play the Tuba part, having only learnt 8 or so notes! My teacher had to rewrite quite a few sections of my part to have any chance of playing it. I also had a very famous Tuba solo to perform, I was so nervous! Luckily, I played everything correctly and I learnt so many new skills from taking part in it.
What was life like at Junior Conservatoire?
I had an wonderful time. I was initially very shy when first joining. I made so many good friends there that it made me way more confident in myself and my musical ability. Being at Birmingham Junior Conservatoire also helped accelerate my improvement of my performance skills. I felt that I had great support from my teachers and the orchestral team all the time, allowing me to develop on my technique, musicality and the way I present myself on stage.
How was the transition to Royal Birmingham Conservatoire?
Similar to when I first started at the Junior Conservatoire. I was quite nervous at first, getting to meet other like-minded musicians. I remember hearing everyone in the brass department's first performance class. I was amazed at the high level of playing, at times I was wondering how I got myself to this stage! After a few weeks though, we all got to know each other. Royal Birmingham Conservatoire had such a friendly atmosphere around the place, with everyone always wishing the best for each other. You were always expected to practice frequently (something I didn't do too much of as a teenager!) Through continuous support from my teachers and my colleagues, I was able to gain the necessary skills and confidence to leave Conservatoire as a professional musician.
You were a brass mentor with the Junior Conservatoire. What did you gain from that experience?
I was very lucky to have been chosen during my final year at Birmingham Conservatoire. This was one of my first experiences of being a mentor and teacher for younger brass players. I gained a lot of teaching experience from the position. The hardest part of teaching I found was how to explain what I knew, in a simple and understandable way to younger players. I also saw at first hand the work that goes into organising the Junior Conservatoire, from the management to the tutors and directors. The mentor role also taught me that I needed very good organisational skills, alongside good time management and skills working as a team. Being a mentor gave me a great head start when it came to being on the verge of graduating and becoming a young professional musician.
Can you tell us what you have been up to since graduating?
Quite a lot really! I never realised how a freelance musician can be here there and everywhere each week. Generally, I have found that my career balances between two main areas of work. The first being a performer, the second being a music educator. Since graduating, I have performed with many different orchestras and ensembles. My most memorable highlights include playing with the City of Birmingham Symphony Orchestra and the Royal Shakespeare Company. As performances keep me busy during the evenings and weekends, education work is what I enjoy doing during the week. I'm currently a mentor with Cheltenham Festivals' Musicate project, a brass teacher and orchestral leader with In Harmony, I run pre concert workshops for the City of Birmingham Symphony Orchestra's 'Notelets' concerts and I perform with Birmingham Conservatoire's Learning and Participation (LEAP) Ensemble. This only scratches the surface of some of the positions I find myself in as a freelance musician. It certainly isn't easy but it's all very fun and rewarding!
How has your freelance career been affected during the recent pandemic?
It was quite a shock at first. As I'm sure many people around the UK found, almost all of my work dried up overnight. Live music wasn't possible anymore and schools were shut. Fortunately, I decided to use all of my spare time to learn new skills and develop on my existing skills. I spent my time during lockdown learning to play the Euphonium and Piano, baking, taking up exercise, taking part in online performance videos and teaching via online video calls. I felt these activities gave me a reason to wake up each morning with a sense of purpose (or catch up on any TV I didn't get the chance to watch before the pandemic hit!).
Luckily, I have recently gone back to work. While I have only managed one orchestral job this year (recording), I have been able to return to schools to bring some musical joy back into children's lives. I feel that now, more than ever, giving children the chance to express themselves musically in these challenging times is very important for their mental wellbeing.
What advice would you give to young musicians thinking of going into the music profession?
I'd say the most important advice is to have an open mind with your options as a musician. It's best to keep as many doors open and to grasp all opportunities that may present themselves later in life. Sadly, not everyone can become solely reliable on performing for a living. A lot of recent graduates from Royal Birmingham Conservatoire usually supplement their performing career with other work in music education, music therapy and orchestral management to name but a few.
I have also found out that everyone seems to know everyone. A lot of recent jobs I have gotten have come through other musicians I have worked with or through recommendations. It's always important to respect other musicians and potential employers, work hard and be a friendly face in what can be quite a competitive industry.
Finally, I'd say that patience is very important, as it is with any other job. While I would certainly love to be part of an orchestra or being the organiser of a major educational project, I have learnt that you have to build up to those opportunities. You will have to work hard to get jobs that you really aspire to. Sometimes, knock backs can happen and things don't go your way, but it's always important to pick yourself back up, keep on working hard and enjoying making music!