MEET THE ARTIST
Ruth Minton
Pianist, researcher and tutor of theory and piano at the Junior RBC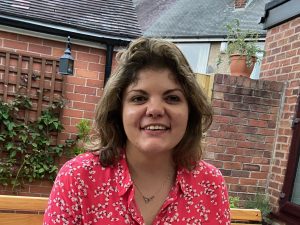 Hi Ruth. Our paths cross occasionally at the Junior RBC and it was really interesting hear that you started out as a student at the Junior Conservatoire, and are now on the tutoring staff of the Conservatoire yourself. I am sure many of the students will be interested to know about the journey you have had from those beginnings, through Oxford University and now into a successful career as a performer, teacher and researcher. It would also be good to have the perspective of combining your performing career with your academic work. 
Tell us a bit about your early years and how you started playing.
There are two distinct early memories of music which come to mind. First my older brother giving me my first piano lessons when I was 4, and second going to the ballet (my Mum and I went to a BRB production of Coppélia) when I was 5.
When did you start at Birmingham Junior Conservatoire?
I started the Junior Conservatoire in the September I turned 13.
Are there any high points you can remember when studying at Birmingham Junior Conservatoire?
There are numerous — one has to be meeting people who were equally enthusiastic and passionate about music as I was, that didn't really happen for me at school. The Junior Conservatoire provided a place for me to be passionate and good at music, and be proud of that.
One memory is playing cello in the Symphony Orchestra. It was always great fun, the rehearsals and concerts, the community as a whole. I will always especially remember my final concert at the Junior Conservatoire – I was principle cellist in the orchestra and we performed Beethoven's 5th Symphony in the old Adrian Boult Hall.
Another high point was performing Brahms's Clarinet Trio, it was the first time I was involved with chamber music as a pianist, the whole experience was brilliant and showed me that if I put my mind to something, I could do it. I also performed Rachmaninov's Suite no. 2 op. 17 for two pianos as part of my A-level performance, it was such a fantastic experience and great fun learning it with a close friend.
The Junior Conservatoire supported me to realise my dream of becoming a musician who explores the academic and performance avenues of the industry; without the Junior Conservatoire I would not be where I am today.
What was life like at Junior Conservatoire?
I always had jam packed days, my parents would drop me off at 8.30am in the morning and pick me up at, initially, 5pm but 7pm by the time I was in my final years.
My typical day when I was mid/late teens consisted of: a composition tutorial at 8.30am followed by theory and aural (it used to be one class back then called 'musicianship'), piano lesson, my morning A-level lesson, string quartet, cello lesson, Symphony Orchestra followed by evening A-level class.
I loved every minute — the Junior Conservatoire showed me possibilities in music I didn't know existed at the time. It gave me fantastic role models in my teachers and friends to explore and experience music with.
What was your education pathway after the Junior Conservatoire?
I studied music at the University of Oxford (2007-2010). I always loved the academic side of music and studying music at university provided the opportunity to explore all aspects of the subject I love — including film music, dissertations on Tchaikovsky ballets and Beethoven piano sonatas, orchestration, harmony and style composition. I was an active performer throughout my time at Oxford, giving piano recitals every term (at my college, Magdalen, as well as the Holywell Music Rooms) and running my college's music society, as well as doing chamber music for my final recital.
Following my undergraduate degree at Oxford, I went on to attain a Masters in Performance at the Royal Welsh College of Music and Drama (2011-2013). Studying at RWCMD provided performance opportunities from solo to chamber recitals and masterclasses, as well as performing in the pit-band for musicals. I also worked for their Junior Department as an accompanist. A different experience to Oxford and an opportunity to immerse myself in performance.
What were the initial stages of your career and what was the overriding element which was vital to getting started? Tell us about your career so far.
Tenacity is definitely the most important element in the early days. A stubbornness to keep going and keep trying. In the early years I sent hundreds of letters (no exaggeration) to schools and art organisations for work as a teacher or performer; the majority never replied but it only takes one positive response to provide a chance.
I always wanted a career which would incorporate the academic and performance avenues of music, that's what I now have. My first jobs were in teaching, initially running the music department of a sixth form college, as well as peripatetic and class room teaching. Alongside these jobs I was always looking for performance opportunities; I worked for summer schools as a pianist, music society concerts and organised my own recitals through contacts.
I started working for the Junior Conservatoire in December 2014. I have also worked for several universities during that time, as a lecturer and pianist. The latter role tended to revolve around accompanying performance classes and coaching ensembles. I've also been lucky to add new skills, such as continuo playing and harpsichord tuning, to my performance portfolio; providing opportunities as a performer I wouldn't have predicted. My role as a lecturer has allowed me to delve into different topics of music as well as learning about devising, delivering and assessing courses at a higher education level. I love my work, especially as every day is different and there is always something new to explore and learn.
How has your freelance career been affected during the recent pandemic?
Performance has largely come to a halt during the pandemic. Colleagues and I have ensured we've put the groundwork in place for future ventures as well as doing several recording projects. The key thing is to keep playing and planning, live music will return.
I am very lucky as a musician that I have work which has continued through the pandemic. During the past year I have started a new job, and my first permanent contract, as a Lecturer in Classical Performance and Pedagogy at the University of Liverpool. Whilst I haven't met colleagues or students in person, it's wonderful to work with a team who, when you have an idea, start brainstorming ways to make it possible — I can't wait to see what the future holds.
What advice would you give to young musicians thinking of going into the music profession?
Always be prepared and never stop asking questions or seeking new opportunities to learn. Remember manners, be punctual, be organised, and be tenacious — never give up.
The best thing about being a musician is we never stop learning, so never lose that inquisitive thirst for knowledge.
Also, following the past year, I think something we can all learn is how to be adaptable and flexible, finding solutions we would never have previously considered.
Can you share your views on the importance of music in people's lives, particularly in the light of the troubled times we are in?
Music has a power which nothing else has. It connects all of us, whether we realise it or not. It is proven that music heightens the ability to learn and communicate, and is a skill which stays with us — just look at Paul Harvey on the BBC, a gentleman in his 80s who can still play the piano with advanced Alzheimers, or the ballerina who remembers the choreography to Swan Lake when she hears the music.
Music allows us to be transported to places and times, to remember people and feelings, its power and importance is immeasurable; especially in these troubled and uncertain times, we need the arts more than ever to provide hope and possibility to the world.